20 Sep

Google Negative Keywords | How To Build It Strategically

Creating a negative keywords list is very often the most underrated part of creating and optimising a Google Ads campaign. Many advertisers are often focused on targeting the right group of keywords and optimising their campaign for conversions. However, few would spend a great deal of time to create a foundational negative keywords list and continue to optimise on that list.
The way Google Ads work – auction
By now you should know that Google Ads work like an auction. The way your ads are shown are determined by
• The times of search terms users are searching for
• The way an advertiser chooses to target the keywords (match types) (targeted keywords)
• Your ad relevancy and targeted keywords relevancy
For instance, if you are bidding for the keyword: "Google ads management Singapore"
There is a high chance that your ad will be shown to queries such as:
– Affordable Google ads management Singapore
– Google ads management Singapore services
What is the point of creating a Google Ads negative keywords list
However, without a proper negative keywords list, you might end up targeting search terms without high buying intent or search terms that are not transactional in nature (as seen above).
With the same targeted keyword and match type (phrase match) above, your ad will also be shown to search terms such as:
– Google ads management Singapore Jobs
– Google ads management Singapore images
– Lousy Google ads management Singapore
This would simply lead to two things:
• Spending more on ads for irrelevant search terms
• Lower conversion rates and higher overall cost per lead
"A negative keywords list will help you to specify when not to show your ad copies to users"
Based on the example shown above, if the advertiser were to add the keyword: "jobs" to the negative keywords list, the advertiser's ad copies will not be shown to the search query: "Google ads management Singapore Jobs". Thus, negative keywords help to filter out users that are not looking to buy, but are just looking for information.
How to include in negative keywords to your Google ads account
One can choose to add in a negative keyword at a: (1) campaign level or (2) ad group level.
More often, advertisers would stick to adding the negative keywords on the campaign level. For generic keywords such as: "lousy", "spam", "bad", these keywords can be added in the campaign level.
When do advertisers add negative keywords to the ad group level?
This depends on how the advertiser would like to structure the campaign.
For example: if an advertiser wants to promote 2 different pages, one selling cheap mattresses, and the other selling more premium mattresses:
Ad group 1: Cheap Mattress
Ad group 2: Premium Mattress
It would be helpful to add the negative keyword: "cheap" to ad group 2. Because the advertiser might not want to direct users who are searching for cheap mattresses to ad group 1 instead (seeing ad group 1 ads instead of ad group 2 ads).
Understand your keywords match types
Here's what you need to know: any misspelling, plural or singular versions of your negative keyword will apply!
For instance, if you choose to add this keyword into your negative keywords list: [promo code] (Notice this is an exact match) Your add might still be shown to queries such as: promotional codes.
In addition, match types still apply in your negative keywords list!
Our team's personal favourite is still to add negative phrase match keywords into our list:
Negative Keywords Ideas – Before campaign launch
Use Google Ads keywords planner:
So the question is: how do you go about doing your keywords research?
One can simply utilise the keywords planner in Google ads.
• It is free
• But you would need to sign up for a Google ads account (also free)
• Your account needs to be in expert mode, not the smart mode
• And it has to be a spending advertising account (in order for you to see the exact data on the keywords monthly search volume)
In the Google Ads interface, click on the 'tools & settings' icon > keyword planner You can then begin to insert in your preferred search term and click on 'GET RESULTS'
This will give you many other search terms that are not transactional, and you can begin collating all the ideas into one list.
Utilise the Google's search engine: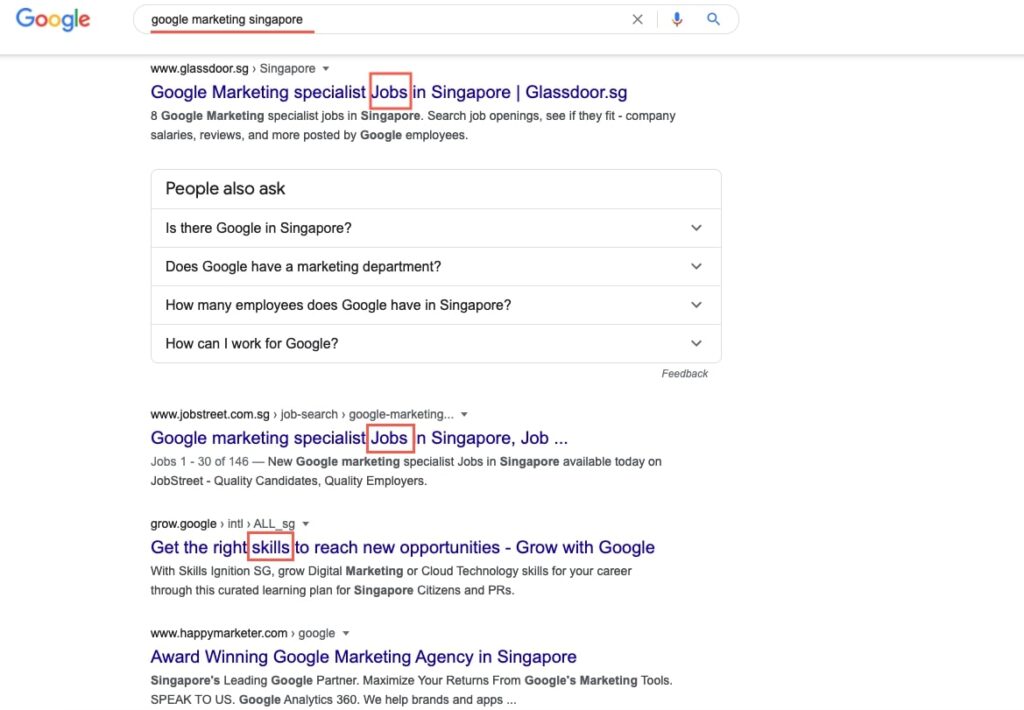 Another simple tip is to actually perform a simple search on Google, and look at the listings on page 1 to 4.
You can easily pick up which listing is more informational than transactional in nature.
Negative Keywords Ideas – After campaign launch
Use the search terms report:
After your campaign has launched. One can start monitoring the full search term data given (usually done after 2 weeks), and start adding non-converting and low intent keywords into the original negative keywords list.
Rising Need For Negative Keywords – Broad Targeting
Starting in February 2021, Google is progressively rolling out changes to the keywords match types targeting. It includes Google changes to phrase match and broad match modifier. This is a bold, but predictable move made by Google, because in recent times, advertisers started to observe that Google is moving more toward broad and automated targeting.
Micro moments happening within the Google Ads system start to matter less, and the bulk of action should be happening in overall campaign strategy, website optimisation, website experience, and funnel marketing.
This means that with broad targeting being the trend, there would be an increasing need to add more negative keywords list to still maintain some form of control within Google Ads.